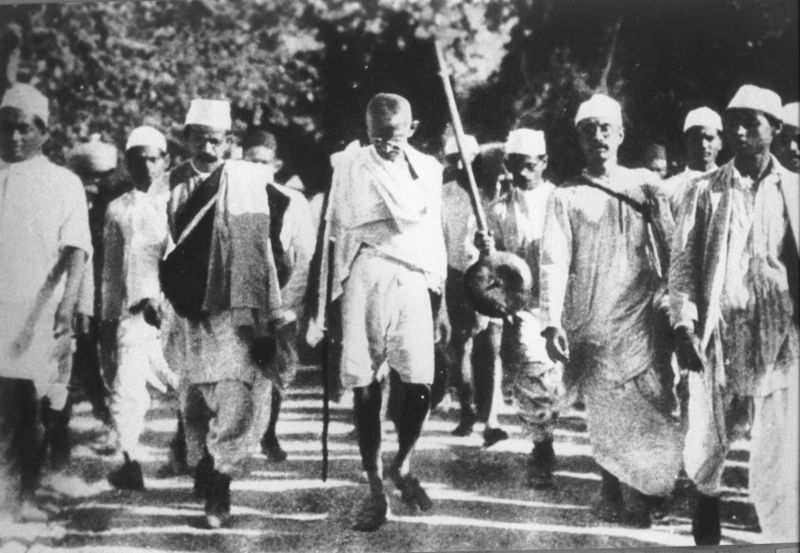 Gandhi during the 1930 salt march.
I am posting a call to action by Alexandra Morton which stands out of the ordinary.
She is calling residents of BC to stand up for the salmon, quite literally, by performing a migration. On Earth Day April 22, people are invited to walk to Victoria from wherever they live, to demand from government an immediate end to the fish farm scandal.
The walk will end in Victoria on Mothers' Day, May 9.
There is a Gandhi inspiration to that initiative, and I like that. Our family - my wife and myself along with our 7-year old daughter and one-month old son - are planning to walk along with Alex.
Obviously, people will not be required to walk hundreds of kilometers from their home to downtown Victoria (unless they actually want to), so I'll post specific details about the logistics of the event as I learn about them.
Meanwhile, mark the date on your calendar and spread the news to your networks.

"We cannot match the corporate fish farm PR machine, nor their lobbying power. So I am simply inviting people to make themselves visible by joining us on foot, electronically and by mail. This will be peaceful, colourful, musical, fun, family oriented. Unless we all stand up and become visible, government will continue to degrade the laws of Canada to the benefit of the salmon farming industry, as suggested in the most recent throne speech."
Salmon Are Sacred
GET OUT MIGRATION





Last week a fish farm magazine (Intrafish) reported that stickleback fish are the source of sea lice, not salmon farms and our government scientist appeared to agree. The non-government scientific community of BC have thoroughly and repeatedly trounced this, and yet here is it again.







Therefore, I have decided it is time to take the issue of industrial salmon farming to the people in an unprecedented way. I have written letters, done the science, met with government and industry around the world, engaged in government processes, talked to thousands of people, been the subject of international media and films and today I stand facing a vertical wall of impenetrable denial. Nothing has brought reason to this situation. We will lose our wild salmon if government continues to carelessly put farm salmon before wild salmon every time.







Because there has been no significant progress in spite of this enormous effort and time spent by many, I no longer feel there is hope of reforming this industry. Government is allowing Norwegian salmon farmers to continue denying even the most basic issues, like sea lice and ISA virus introduction to the North Pacific. If we let this play out our wild fish simply will not survive







So it is time for the Get Out Migration. I am not talking about all aquaculture. I am referring specifically to the massive scale Norwegian feedlots. There are Canadian fish farmers who know how to use tanks on land who are not impacting our wild salmon and herring. This is about saving wild salmon and all of us who depend on them.





I will begin deep in the beautiful Ahta River in mid April with the salmon and move by boat through the Broughton Archipelago to Sointula. On Earth day April 22 I will simply start walking to Victoria and ask people join me to stand up for wild salmon so that our politicians will know we exist. We will communicate our progress and connect the countries facing this industry through the website www.salmonaresacred.org org> We hold salmon as sacred because they so generously feed our world. They built the soil of this province with their flesh, they grow our children, they feed the trees that make the oxygen we breath, they are food security in a world losing ability to even pollinate flowers.





When we get to Victoria, we will meet with representatives from government.





We cannot match the corporate fish farm PR machine, nor their lobbying power. So I am simply inviting people to make themselves visible by joining us on foot, electronically and by mail. This will be peaceful, colourful, musical, fun, family oriented. Unless we all stand up and become visible, government will continue to degrade the laws of Canada to the benefit of the salmon farming industry, as suggested in the most recent throne speech. The salmon farming industry cannot survive unless is it free to grow relentlessly to meet their responsibility to their European shareholders. BC cannot survive this, we know we cannot pour an endless amount of fish into the ocean. We will carry a message to the Federal government – do not degrade the Fisheries Act again so that it no longer protects the fish that belong to the people of Canada.



Please stand up for wild salmon by joining a migration emerging from the Broughton Archipelago then leaving Sointula on 22nd April and closing with a blessing in Victoria on Mothers' Day (9th May). If you are interested in hosting other events, leading a migration arm from the Fraser River Valley, Gold River or other places in B.C. or just joining us for one step of the way please let us know. www.salmonaresacred.org org> This website will be active shortly.





Hope to see you on this migration.







Alexandra Morton