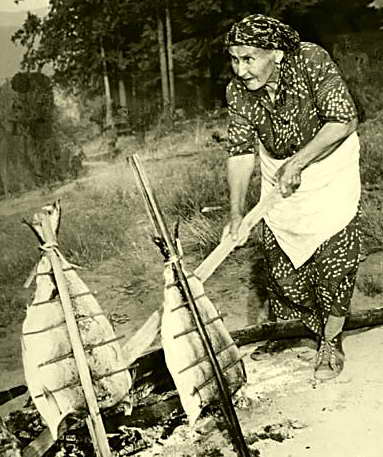 An elder of the Tsleil-Waututh Nation
cooking salmon, c. 1940.
Part 1
This past week, representatives of BC First Nations were called to testify before the Cohen Commission which is inquiring in the decline of the Fraser sockeye. The stated purpose of this week's hearings was to provide the Commission with insight in the worldview, cultural context and traditional knowledge of the aboriginal people in relation to the salmon. In total, 14 First Nations leaders appeared over a period of three days to provide their testimonies.
The hearings rapidly turned into a frontal assault against DFO, as the various indigenous leaders took turns to convey the same message to Justice Bruce Cohen: the Department of Fisheries and Oceans is a tyrannical and incompetent agency which dismisses aboriginal traditional knowledge, routinely tramples over basic indigenous rights, and accelerates by its mismanagement the decline of BC's wild salmon.
The attack on DFO was no accident, nor was it (at least solely) the result of the aboriginal leaders' personal frustration and sense of aggravation with this agency's incompetence. Rather, and more fundamentally, it was the expression of a head-on collision between two systems of knowledge, two incompatible worldviews.
Most aboriginal witnesses started their testimonials
[1]
by explaining the meaning of "traditional knowledge". The First Nations possess a unique and invaluable knowledge of the salmon which has been acquired over thousands of years and is passed from generation to generation through oral tradition and direct experimentation, under the guidance of a parent or elder. A key characteristic of that knowledge is that it is not acquired in the abstract inside a classroom, but through concrete interactions with the land and the living beings which inhabit it, leading to a direct empirical understanding of how things are connected to one another.
I grew up on a boat,
Rod Naknakim of the Laich-Kwil-Tach said.
The entire village was involved in salmon fishing. My grandfather told me about his father being a fisherman
.
Fishing,
Grand Chief Clarence Pennier of the Sto:lo said,
is a family function which you learn from your parents and grandparents.
Chief William Charlie of
the Chehalis:
I used to fish with my grandfather. He would tell me which type of net I needed to bring to catch the fish that we would have in the water that season. I asked him: how do you know which fish we are going to have? He pointed to plants and birds and animals and said: when they are here, this is the kind of fish we get in the water. It's part of a system. (…)
We try to understand the full ecology cycle. When the pussy willows appear and the robins and black birds are coming around, that's when the early spring salmon come back.
Rod Naknakim:
I was always amazed how my grandfather knew the area and when the fish would come, and how many. He would whistle at the orca whales and they would rub against the boat. He was famous for predicting the size of a salmon run. He would get into fights with DFO, telling them 'there is a big run coming', and often he was right. The elders would know which run was which just by looking at a fish, mostly from its size and appearance. I used to know some of the differences myself when I was young.
Chief Fred Sampson of the Siska:
[2]
Our traditional knowledge is very important. My grandmother knew. She would wait till the mock orange blossoms were on the trees and say "now we will go fishing." "Why not before?" I'd ask her. I could see the fish going by. She'd say, "those fish belong to somebody else, the people higher up the river. It is only when the mock orange blossoms come out that it is our turn to fish."
I have a cousin who works in one of the spawning channels. He works with SFU. He would say: this one spawned, this one didn't but tried to, etc. And the SFU people were able to sample the fish and verify and confirm what he was saying. That knowledge was passed on to him by his father and grandfather. We need to integrate this knowledge with technology and modern tools.
In this worldview, having practical knowledge of a particular ecosystem cannot be dissociated from living in that ecosystem and depending on it for daily subsistence. This is why the witnesses, as they spoke before the Commission, tended not to separate factual knowledge from cultural tradition from dietary habits from stewardship of their land. Salmon are in our songs, dances, carvings, Rod Naknakim said. Twins in our family had their own salmon song to signify abundance, Chief Robert Mountain of the Namgis said, and he then added: when I was a child, we would live on the sockeye, we would eat sockeye three times a day and then we would have sockeye as snacks. Councilor June Quipp of the Cheam: we have to respect the salmon because it is such a big part of our lives. I teach my children and grandchildren about the meaning of the salmon and how we cannot waste that food.
Chief William Charlie:
Salmon contribute to the physical, spiritual, and social health of our people. When salmon has been a major part of your diet for so many generations, it becomes a part of you. It becomes soul food and medicine. You crave for it, you become anxious for it when the fishing season comes upon us.
When asked to define what stewardship of the salmon meant to him, Chief Charlie explained: stewardship is how we conduct ourselves to ensure that all living things carry on. We don't want to be the generation responsible for losing something, especially not the salmon.
DFO, however, does not recognize aboriginal knowledge as being useful or relevant to its mandate and, according to the witnesses, dismisses it altogether as being pseudo- or at best anecdotal knowledge. When asked by her legal counsel how DFO deals with her culture and traditional knowledge, Councilor June Quipp responded: They are in denial. They ignore our culture, they don't use their mandate to deal with it.
The traditional ecological knowledge is not acknowledged, not respected by the scientists, by the management. We believe our traditional ecological knowledge is very important in caring for the fish. They
[the scientists]
would say "you just don't understand the science" and we will say, "no, you don't understand the role that traditional ecological knowledge plays."
That denial is unfortunate according to the witnesses, since DFO is itself perceived by many First Nations as being a deeply ignorant organization which would gain much from tapping into some of the accumulated aboriginal knowledge. Such knowledge would help them, for example, to avoid some basic and rather embarrassing mistakes as they fumble to gather information on fish stock sizes. Chief Robert Mountain:
When I was a commercial fisherman, we were wondering what DFO was doing, fishing on the biggest tides when it was dangerous. They were doing tests at the wrong times when there was no fish, so their numbers on how many fish were out there were not accurate. DFO was doing the wrong tests at the wrong times in the wrong areas – and that's too bad, because our elders had, and still have, that knowledge.
The legal counsel of Chief Edwin Newman of the Heiltsuk produced a handwritten map maintained by the band, showing all the salmon-bearing streams and creeks in his territory. Most of those streams don't bear salmon anymore because of bad logging practices, Chief Newman commented as the map was being projected on the courtroom's computer screens. We attempted to restore some of them, but we were told not do that, not to interfere with that. The map was entered as evidence in the Commission's proceedings. On a similar note, Chief Robert Mountain commented:
I am concerned about the assessment done
[by DFO]
in the creeks. A lot of creeks are not recorded, even though we would see tens of thousands, sometimes hundreds of thousands of salmon in those streams and creeks.
There was a noticeable drop in the past 20 years. I used to swim in streams with 20,000 sockeye, and now there are maybe 1,000 of them.
[1]
I am using quotes from aboriginal leaders which I transcribed to the best of my ability as the testimonies were being given at the Commission. While my transcriptions accurately convey the meaning of what was said, they may not always reflect the exact words used by the witnesses. For that, we will have the official transcripts which should be posted on the Commission's website within the next couple weeks. To indicate that my quotes are true in their content yet not necessarily exact in their form, I am using italics and no quotes whenever quoting an aboriginal witness.
[2]
I was not present on the second day of the testimonials and so for those, I am relying on the transcripts provided by fellow activist Elena Edwards.